ABOUT US
The brothers, R. M. Agarwal and P. M. Agarwal, from a humble beginning, scripted the story of the GLORIA in 1996 at Pune. Two decades later, headquartered at Pune, it has grown into a pulsating institution with manufacturing setups at ,Pune, Lucknow, Jamshedpur, Dharwad and Bhuj.

Inspired and motivated by the benevolent ideals of the legendary JRD and obsessed with an incorrigible and irrepressible passion to create a world class industrial edifice, R. M. Agarwal along with his brother P. M. Agarwal set about meticulously crafting the present-day GLORIA GROUP brick by brick.

Toughened by the early trials and tribulations and propelled by nothing-is-impossible spirit of the Agarwal brothers, GLORIA has now blossomed into a pulsating and throbbing global engineering institution in automotive components and systems and farm equipment aggregates.

GLORIA now boasts of manufacturing facilities in Five different locations in India with around 6 lac square feet of work space. Latest technologies and human resources are working together around the world passionately to create an enduring institution.

Founder and Chairman Mr. R. M. Agarwal, Co-Founder and Managing Director Mr. P. M. Agarwal and Joint Managing Director Mr. A. M. Agarwal, Mr S. M. Agarwal and A. S. Agarwal now spearhead GLORIA GROUP.

GLORIA more than being a successful first generation business enterprise, is a throbbing and passionate story of its people, values and indomitable spirit of faith and innovation. It is the story of an ever-growing vibrant family that is founded on ethics, anchored on humanism, energized by passion, driven by the spirit of excellence and above all is in quest for immortality.

GLORIA is a fast growing global engineering organization with business interest ranging from design to manufacturing of aggregates and systems related to commercial vehicles, passenger cars, and farm equipment.
Mr.Uday Nayakwadi
Corporate Quality Head
Mr.Sandip Bhagwat
GM Operation
Mr. S. S. Rao
Finance Head
Mr. Deepak Verma
Plant Head Unit 4 (Pune)
Mr. B R Chavan
Costing Head
Mr.Prakash Sharma
Plant Head (LKO)
Mr. Ashish Matto
Plant Head Unit 2 (Pune)
Mr. Satyawan Bhadange
Quality Head Unit 4 ( Pune )
Mr. Vinod Kushwaha
Quality Head ( LKO )
Mr. Vivek Mishra
Head SCM( UKD )
Mr.Basavraj Arjun
Plant Head Unit 1 (Pune)
Mr. Amol Mistry
Plant Head Unit 3 (Pune)
Mr. Narendra Pattidar
Plant Head (JSR)
Mr. Prashant Bhosale
Quality Head Unit 1 ( Pune )
Mr. Jitendra Patil
Quality Head Unit 2 ( Pune )
Mr. Onkar Pandit
Development
Mr.Santosh Kumar
HR Executive
Mr.Rushikesh Wani
HR Executive
VISION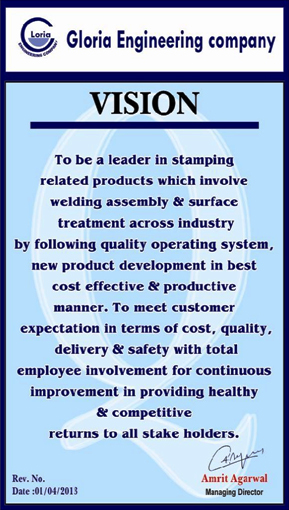 MISSION